Balloon Decorators in Delhi, Noida, Gurgaon, Faridabad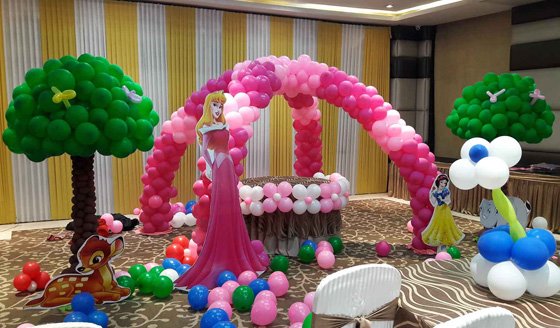 Balloon Decorators in Delhi, Noida, Gurgaon, Faridabad - Birthdays are always special regardless of someone's age. And, we respect that. We cater to everyone for we only look forward to see our clients cherish the day. Managing a party can be tricky and with the role of a decorator comes a ton of responsibilities that we follow. Our Balloon decorators in Delhi and Gurgaon are effectively changing the way parties are organised. We are obviously not doing anything radical here but we will aptly provide our service to the best of our abilities. For parties that needs balloon decorations, we will craft anything that our clients want us to. Balloons are primarily one of the elements that birthday parties require. Without balloons, birthday parties seem vacant.

We have been organising parties and hosting birthday parties for a long time and hold the experience that we use to exemplify the aura of each event that we host. We have been one of the leading Balloon decorators in Noida, Delhi, Gurgaon and Faridabad and we live up to our reputation.


What we do?
Balloon Decoration for Birthday Party in Delhi, Noida, Gurgaon, Faridabad - Balloon decorations might sound heavy, it can be a tedious task if it's customized. Custom balloon decorations are what we do. The customizations are also what we look forward to since it is something that we excel at. There are various themes that can be availed. From Disney themes to Superheroes, we do it all. There are other variants of this as the customized ones can often be a bit of a derivation from the default theme that we provide. Custom printed balloons can also be availed which invigorate a different flavour to the parties. Kids usually in the parties end up playing with balloons, we provide for that too for we have specific balloons that cater to the decor only. You can contact for
Balloon Decoration for bithday party in Delhi, Noida, Gurgaon and Faridabad
location.
Castles and gates made out balloons can make quite a display. These shapes can be determined as per the client demand. From smiley balloons to polka dotted ones, our range of balloons are endless. The options can be chosen from and availed of according to the theme and client requirement.
We prefer helium gas balloons for specific occasions but generally they tend to be lighter than the hydrogen one. The hydrogen ones are also highly inflammable which can cause distress and unwanted incidents. Helium gas balloons are relatively safer if the party is for kids. The kids love and gaze over the shiny balloons that float in the air and that itself creates an intrigue among the little guests.
Why us?
We provide the best quality balloons at optimum prices. Our services are affordable and they have the tangibility of making a difference. The balloons will float for a long time but we make sure that the theme turns your dreams into a reality!