Kids Birthday Party Themes Decorations Ideas in Delhi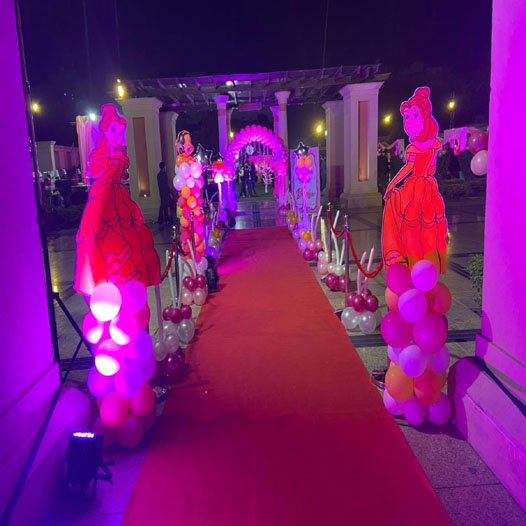 Kids Birthday party decoration ideas - To celebrate a birthday full of joy and happiness, it is necessary to arrange the things in a proper manner. Whether you are selecting the venue or planning the theme, you should do everything carefully. It is a special day for your kid. So, you have everything to make them have. You can gather various ideas to make the birthday amazing. These ideas will help to make your birthday a great day of happiness. It is a tough task to make the kids happy with our efforts. But, there are some trusted ways to make the kids happy with different celebration and birthday party decoration ideas. You can also get our services for birthday organization to make it more pleasing and enjoyable.


The decoration is the key
Birthday Theme Decoration
- No matter what type of birthday party you are arranging, the
decoration
is going to be the center of attraction in the party. You should choose a good service to decorate the party or do it yourself with full care. Make sure to use the
best decoration
assets. You can easily find various
birthday decoration ideas
on the internet too. Using balloons, flowers, and other decoration assets, you can make the birthday an unforgettable day for everyone.
Find a good theme
While the decoration at the
birthday party
venue, you should keep in mind the theme of the party. There are lots of
birthday decoration themes
which could be suitable for your
kid's birthday party decorations
. These themes are easy to implement in the parties. You should take care of the necessary things like assets for activities, cakes, and decorative things.
Arrange Games
You can also arrange different types of Games & Rides to make the guests happy at the party. There are different games for kids of different ages. You can arrange them by choosing professional birthday organization services too. These games will indulge everyone at the party and also make them feel special too. The different games which can be included in the Birthday celebrations are as follows.
• Balloon Bursts
• Musical Chairs
• Cake Race
• Photo scavenger hunt
• Paper boat race
• Mummy Wrap
• Drama Game etc.

With these birthday celebration ideas for kids, you will find it easy to take care of the things which are necessary for the party. The main thing about the party will be the birthday theme decoration. These themes will help to make your birthdays more charming and enjoyable. So, make sure to choose them appropriately or find good birthday organization services.