Candle light dinner in Delhi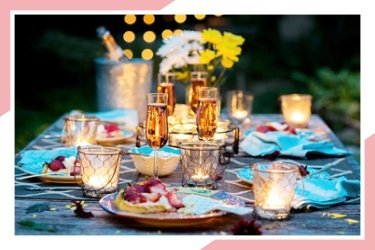 Trying to have your partner head over heels? Want to express your love, show that you care and can be romantic han?? A romantic Candle light dinner screams it all. We are here to help you plan the most romantic candle light dinner date in delhi...
Here are the few ideas for candle light dinner in delhi:


Romantic and cosy movie date night:
Nothing can be more romantic and cozy than watching a romantic movie with your partner and cuddling. Imagine dim lights, auromatic candles lit somewhere aroundbthe movie screen( to catch your partners attention), you and your partner in a warm blanket , some snacks to eat and a perfect romantic movie to watch. It will be a memorable night and the best romantic night one could ask for.
Candle light dinner on Rooftop:
If you and your partner is not afraid of height and want to try something new, are in for adventures so this
candle light dinner
date will be perfect for you. The rooftop decorated with your partners and yours favorite flowers and scented candles with some lightings too and the bonus point sky with full of stars and moon shining.  Only the idea is so exciting , think how exciting this
romantic candle light dinner
date is gonna be??
Classic candle light dinner in a restaurant:
Well it might be a little costly if you go to very expensive restaurant. Rather than going to very high-fi restaurant you can just go somewhere near and nice place which is budget friendly and can make this evening special for your partner. Your
company
is the most needed thing with some candles lit on table and there's a saying  'Good Food is a key to Good Mood'.  One can Never go wrong with the classic! Right?
Near pool:
A
romantic Candle light dinner near pool
is a successful idea trust me. Your partner if loves water or swimming then toh they are definitely gonna love this
idea of candle light dinner
by pool. It can ve like a short vacation too that to budget friendly. You can stay at a resort and can arrange
candle light dinner
by pool. Sip some nice wine and eat your partners favorite food with them. It is gonna be like one of those romantic scenes just like in movies ....
Some special moments like this with your loved ones matter a lot and become a nice memory hopefully these ideas would have been a little helpful for you to plan a dream
romantic candle light dinner
date.